Tarsar Marsar Lake Trek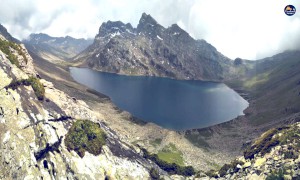 Tarsar Marsar Lake Trek is one of the highly opted treks of the Kashmir valley. It is a trek encompassing a journey to the two beautiful twin lakes, Tarsar and Marsar, encircled by the peaks of Kolhai Mountain.
The twin lakes are renowned from the 16th Century during the period of the ruler of Kashmir, Yusuf Shah Chak. The lakes are notable for their almond form separated by a mountain, identical in nature, and are placed in the Aru District of Jammu and Kashmir. Both lakes flow in opposite directions, the former changing integrity with the Lidder stream of Lidderwat and the latter to the other side of Aru. Apparently, the Dachigam national park is in vicinage to Marsar Lake.
What makes the Tarsar Marsar Lake trek so favorable?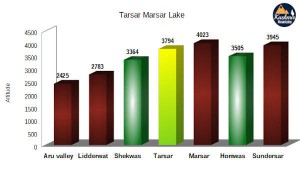 What makes the Tarsar Marsar Lake trek so favorable is the serenity that presides over the surroundings. The gorgeous Aru, a shade of the Jammu and Kashmir valley makes the expedition a peaceful and nurturing journey; a journey, though won't be highly fanciful but positively peace rendering.
About the trek, it's a moderate-level trek that any nature lover can travel. The highest possible peak of the trek is 13, 000 ft. The lakes are surrounded by beautiful alpine trees and therefore the experience is even commendable throughout the summer when the alpine flowers form a radiant glowing sheet reflecting on the water. Other traceable floras include blue poppy, Meconopsis betonicifolia, geum, gentian, and Hedysarum Alpinum, alpine flora, a flowering plant species in the legume family known as alpine sweetvetch.
The Tarsar Marsar Lake trek is a pleasant sight during the summer as we'd encounter various birds and regional animals. Bar Headed Geese, choughs, golden eagles, black bulbuls, musk deer, snow leopards, brown bears, and the golden marmot are just a few to look at and capture.
The Trek is of medium difficulty level and can be accomplished without any adjustment requirement. During July and Sept, Tarsar Marsar Trek is idle.