Tosamaidan altitude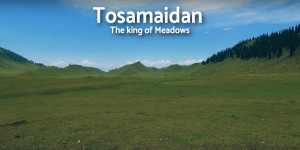 Located at an altitude of 10170.6 feet, 3100 mt, Tosamaidan is a breathtaking gem in the heart of the Pir Panjal Mountain ranges. A summer meadow frequented by the shepherds and herders with their flock of sheep and cattle, this verdant landscape leaves even Gulmarg far behind in scenic beauty. It is said that Tosamaidan is one of those pastures which the shepherds of other neighboring countries also used to visit in ancient times. The Mughals used to go to Poonch using this route. It is said that they had constructed a seven-storeyed building Dam-Dam – there.
Distance from Srinagar to tosa maidan
After decades of being utilized by the army as an ordinance testing ground, Tosamaidan is now open for tourists as the lease with the army has expired in 2014.
The region finds mention in historical documents like Tuzk-e-Jahangiri and also in the memoirs of foreign travelers like Hieun Tsang and Fa Hien.
How to reach the Tosamaidan roadmap
Presently tourists can reach Tosamaidan from Shunglipora by trekking a trail of 12 Km through pine and birch forests enlivened by birds. The peaks of Shin Mahinu (4612 mt) and Shiv Nag (4359 mt) in Tosamaidan offer majestic views, skiing in winter, and trekking in summer.
Tosa Maidan is surrounded by gentle slopes and easy gradients that are referred to as writing desk slopes. In and around these ridges, peaks, and slopes, there are quite a few water bodies. One can reach these high-altitude sparkling lakes like Daman Sar and Bodh Sar through picturesque trekking trails. Beyond Daman Sar, a trail leads towards the pass of Chini Marg (4050 mt) that goes towards Ponch via Jamian Da Nallah. The trail further leads to the road head of Mandi, a village in Loran valley Poonch. From here one can catch a bus down the valley to Mandi Tehsil. Cattle herders of Poonch use Chini Marg Pass to access the meadow of Tosa Maidan in the lap of Pir Panjal. This pass remains open from June till September as the rest of the time weather remains hostile and unfriendly under extreme cold and snow.
On the other hand, these lakes also feed many nullahs that merge to form the Sukhnag River. The icy cold water of the river offers not only delicious trout but also adrenaline-pumping rafting opportunities.
Besides the awe-inspiring beauty, the ridges are also perfect for parasailing and paragliding. Tosamaidan, being a meadow, is an ideal place for camping and zorbing. Nature lovers can enjoy a homestay in one of the many Dhoks that belong to the shepherds and the cattle headers or carry their own tent to enjoy the beauty of Tosa Maidan and camp at any place of their choice.
Around the periphery of Tosamaidan, there are some villages of historical significance that are worth visiting like Khag, Drang, Poshkar, Khan Sahib, Beerwah, and Magam. Ahaji Canal and Sursh Canal have been constructed in Tosamaidan to irrigate the fields of District Budgam. The villages of Poshkar and Kachwari also serve as attractive destinations for rural tourism. Here tourists get to experience rural life in its real colors.
The villages located at the foothill of Pir Panjal like Sutharan, Drang, Chill Brass, Zugu Kharyal, Rengzabal, and Yari khan offer insight into the simple rural life of Kashmir. Maize and Rice are the pre-dominant crops cultivated by the locals. Horticulture products like apples and walnut also supplement the rural economy.