Yousmarg Doodh Ganga is a beautiful river known for its water that appears milky in color, flowing through the beautiful Yusmarg. The river is rich in the population of trout fish and is thus considered to be one of the best angling and fishing destinations in Kashmir.
For many trekking expeditions, Doodh Ganga also serves as a great base. Trekkers set out for famous treks after camping at Doodh Ganga in the Sang-e-Safed Valley, Tatakoti, Romesh Thong, and Sunset Peak.
Major Highlights of Doodh Ganga
Trout Fishing
Trekking & Camping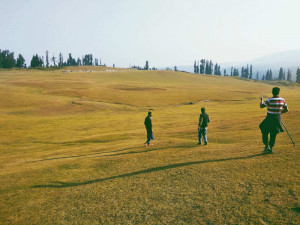 Yusmarg (signifying 'Meadow of Jesus') is a hill station in the western Kashmir Valley in Indian Kashmir. It is situated 47 km south of Srinagar the capital. Yousmarg gives space to delightful scenes, pine nurseries, and green-pastured meadows. Nilnag, Doodhganga, and a nascent created artificial dam add more to the beauty of the meadows. Nature has offered Yousmarg lovely greenery.
Yousmarg is one of the Pir Panchal range's amazing meadows. Believed to have been Roosmarg, a meadow of deer, the untamed life plentiful lavish green field is forever encircled by snow-clad mountain peaks. It is the main base camp for scaling 3 major Pir Panchal peaks – Tatakoti (4725 meters), Romesh Thong (4700m), and Sunset Peak (4746m). Tatakoti is a glacier that feeds Doodganga, the mountain stream that feeds part of Srinagar.
It additionally has incredibly harsh tracks interfacing the meadow with Gulmarg, Tosa Maidan, and Poonch. One of the tracks through Noorpur Pass interfaces Yousmarg (Kashmir) with Loran (Poonch) and has been a memorable trip. Loran was once Kashmir's major outpost where a fort was located. It is presently being utilized by the Bakerwals for their movement from the Pir Panchal range to Kashmir with their herds during the summers.