Four seasons of Kashmir, Known for its stunning climate all throughout the year. features a typical European climate that can widely be categorized into four seasons SPRING, SUMMER, AUTUMN and WINTER.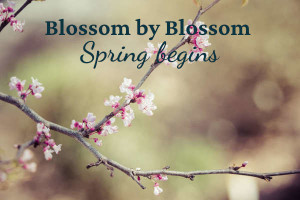 SPRING – March to ending April – (15-18 Celsius during Day) to (0 to 5 degree Celsius at night)
The whole valley comes alive in this time with velvety green grasses, a mustard field in full bloom and blossoms after blossoming of almond, cherry, apple, peach, pears, pansies, narcissi, daises and a million grass flowers carpeting the ground. Throughout the valley, thousands of fruits and flowers burst into bloom exuding an alluring fragrance. One can see miles and miles of mustard fields draped in Yellow and orchards full of multi-hued blossoms. The Climate of Jammu and Kashmir at this time of the year is ideally suited to thoroughly enjoy the beauty of the place.
The most interesting event in this season is the Tulip Garden blossom – which starts around mid march and ends by 1st or 2nd week in April, depending on the heat intensity. And that is spectacular that any visitor to Kashmir and Srinagar city would not want to miss.
SUMMER – May to August – (20-30 Celsius during Day) to (15 – 20 degree Celsius at night)
Temperatures rise slightly and the Climate of Kashmir valley is unbelievably lovely at this time of the year. The gushing streams, majestic lakes, maple Tree groves (locally known as Chinar), and the forests all appear very enticing in the summers. Fruits are ripe and in plenty. Tourists can also visit the Orchards and assist the villagers with apples and other fruit pickings. In and Around Srinagar you may be required to wear light woollens or heavy cotton clothing. The whole valley is like a painter's canvas with a mosaic of varying shades of green – ice fields, meadows, trees, etc and Srinagar with its lakes and waterways is a heaven after the scorching heat of the Indian plains.
AUTUMN – September to November – (18-25 Celsius during Day) to (10-15 degree Celsius at night)
The most awaited season in Jammu and Kashmir sets in the month of September. It is autumn, the season of mists and mellow fruitfulness. Everything turns to gold. The sight of the landscape has a magnetic appeal then. The red-carpeted gardens are a treat to the eyes. Temperatures rise to a maximum of 23 degrees in the morning but the nights are relatively colder. The weather is very conducive for the tourists to take delight in the sights, sounds and smells of this idyllic land. The vibrant valleys, the rustle of the fallen leaves, and the fragrance of flowers are there to enchant you. The onset of autumn, perhaps Kashmir's loveliest season, is towards September when green turns to gold and then to russet and red. The highest day temperatures in September are around 23oC and night temperatures dip to 10oC by October and further drop by November when heavy woollens are essential.
WINTER – December to February – (5 to 10 Celsius during Day) to (-4 to 2 degree Celsius at night) Winter starts in the month of December and it is extremely cold then. Even though the trees have a bare look and the beauty of the hued gardens no longer catches the eye, there is an altogether different charm in the surroundings. The upper reaches are snow-covered and become a visual treat to the eyes, the city of Srinagar also receives snow towards the mid of January – February and overall the whole landscape is transformed. This is the best time for Skiing enthusiasts to enjoy the beautiful slopes of Gulmarg and other places around Srinagar.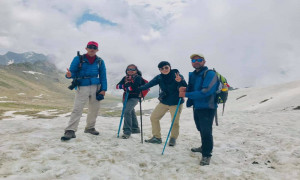 Kashmir in the winter season: the best pictures you can lay your eyes on!
Ah, snowfall in Kashmir! It is a magnificent thing that transforms Kashmir into white-carpeted heaven, verily India's own Switzerland. The joy of travelling to Kashmir in the winter season is an experience indescribable. As the excitement of the holiday season is building up fast, signalling us to plan our winter vacation soon, we bring up a few captivating experiences and Kashmir pictures in winter to make you fall in love with the region, all over again.
Gulmarg gondola is the coolest cable car ride ever!
If you get on board a gondola cable car in Gulmarg, know that you are in luck. Feast your eyes on the panoramic beauty of Kashmir, about which countless poets have sung in their writings. A gondola ride in Gulmarg really has something for everyone. Vacationers heading out to Kashmir ought to go for a gondola cable car ride for unforgettable views and a handy camera to capture all the magic.
Honeymoon when it's snowfall time in Kashmir!
Kashmir is heaven on Earth and that's the reason why it is a dream place to visit for newlyweds. Plan a trip during your snowfall in Kashmir, including visits to Srinagar, Gulmarg, Pahalgam and Sonamarg, and you will have all that you could practically imagine for a fabulous honeymoon. Plus, you get to take your pick between the choicest resorts located in all these regions.
Unlimited skiing and snowboarding in Kashmir
A winter vacation in Kashmir should include some snow, and a good skiing session is a must to make the most of your holiday out there. Gulmarg is a haven for skiers and there are ideal facilities in place in those powder-covered regions that are all well worth the trip. All you need to do is, get your ski gear, invite your buddies and get set to hit the slopes!
As a bonus, you get to enjoy the hot Kehwa (also Kahwah) and Kashmiri biryani served by the Dhabas situated close to the skiing spots, and also the warm hospitality of the locals.
The 'Kangri' experience in Kashmir winter
Kangir – A Traditional Fire–pot of Kashmir is a unique cultural asset of the people of the valley used to beat away the freezing temperature, Kashmir looks beautiful in the winter, but when the chill gets too hard to bear, the locals warm up to the Kangri, a conventional heater used in Kashmir and Himachal. It is a small earthen pot woven around with pliable twigs of a willow tree and filled with burning charcoal. It is carried underneath traditional Kashmiri garb to stay warm and cosy. A whole piece of charcoal is good to last for a day. Get one for yourself to keep frostbites at bay. Go for warm bites when it snows in Kashmir. You need Kangri to keep your body warm, but it is the Kashmiri harissa and a cup of hot Kehwa that would do the job of warming up your soul as well. Since Kashmir is predominantly a non-vegetarian region, locals take joy in feasting on a dish made of goat meat or mutton. It is slow-cooked on fire overnight and seasoned with spices and then served with a traditional (Naan-Bread, Kehwa), on the other hand, is an aromatic brew made of eleven locally-grown herbs. It is served with Sheermal which is a savoury, crispy and salted bread. Sheer delight!