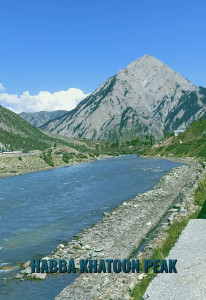 Gurez, the ultimate adventure destination north of Kashmir, is a gateway to the famous Silk Road through Central Asia. The pyramid-shaped peak, named after the famous Kashmiri poetess Habba Khatoon, is the most fascinating peak in Kashmir.
Habba Khatoon, named Zoon (meaning moon) by her parents, was a Kashmiri poetess in the 16th century.
Habba Khatoon Peak is the dominant peak in Gurez Valley. The people of Barnoi collect one of the most expensive cumin seeds in the world, known as Gurezi Kala Zeera, from the mountain's outskirts. The mountain is one of many indistinct and grand structures in Gurez; to the locals, however, it echoes the incredible and legendary story of a woman. A woman only remembered the verse of loss and the lost quest for love through her voice.
Yusuf Shah Chak, the king of Kashmir, spotted her in the fields one day. Legend has it that he fell in love with the beauty of her voice and the richness of her rhyme.
He gazed at me through the door
Wonder who showed him where I lived!
And I ached with love in every limb
Forever a young girl I am in desire
You stole my heart and stole away
Come back, my lover of flowers
Valley resonates with the surrounding mountains and lulls visitors into a deep sleep. The traditional log homes make Gurez nothing less than a European landscape. The people of the Gurez valley are darts, they speak the Sheena language and have their ancestral connection to the Gilgit valley in Pakistan.